Succession Planning - Business Sale to Children
Case Study
The challenge, in this case, was with two Shareholders, husband, and wife who owned and operated their business for 26 years. They had 3 of their 4 sons working in the business at various levels and wanted to leave the business to them and retire. The couple had no plans on this succession and were navigating guilt and feelings of frustration over their sons taking over and leaving out the fourth son.
Our plan:
Evaluate potential successors:
At all levels within the organization – based not just on the requirements of today, but also of the future, to ensure that the skills needed are present among all candidates.
Incorporate open discussion:
Amongst senior leaders to ensure alignment on the types of skills and traits needed by future leaders.
Examine the candidate pool for critical roles:
The best succession management plans have three or four potential successors who are either ready now or soon, to take on each of the most important roles in the organization.
Align leaders with organizational strategy:
To assess the strengths needed to continue to advance the long-term vision of the organization.
The solution JR3 Consulting created incorporated how critical it was to be completely transparent during this process. All the sons had such high potential. With an active plan to identify and develop each son with high potential for future leadership roles, this plan proved to be a powerful tool for retaining the sons as top talent and ensuring that these successors are ready when they were needed.
The couple felt confident their sons could handle the business without them after identifying each of their strengths and creating a strategic plan for the future. In addition, JR3 Consulting connected them to a seasoned Wealth Advisor to help them plan for the next phase of life. This advisor also helped them determine an amount of the proceeds that were comfortable to share with their fourth son.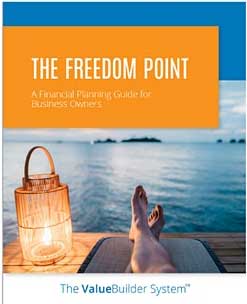 Get this eBook and Other Helpful Resources to Guide You Through Succession Planning.
Our Resources can help you, as a business leader, answer your questions about maximizing your company's value and succession planning. To find the answers you need, tailored to your healthcare business, click on the links below.
Get Your Value Builder Score
Whether you want to sell your business now or decades into the future, getting your Value Builder Score will allow you to:
Diagnose

Diagnose what may be holding you back from creating a company that can fully thrive without you.

Evaluate

See how an acquirer would evaluate your business, enabling you to focus today on what will be important down the road.

Identify

Identify hidden things that may quietly drag down the value of your business so you can eliminate them before they become a problem.

Pinpoint

Pinpoint the part of your business that will have the most value to an acquirer so you can invest more resources in areas likely to be most attractive to an investor or acquirer.