Impact of a Broker Opinion of Value
Case Study
The challenge here was the Shareholder came to us to perform a Broker Opinion of Value on his business. The value came in about 500K less than what he was expecting. In the valuation, we identified areas that would improve cash flow and drive up the company value allowing us to increases the multiple.
Our plan:
Improve cashflow:
Identified areas of the financials where the business was bleeding money. We also helped the owner realize the negative impact he was having on cash flow using the business to fund his personal needs.
Determine the return on investments made:
Created a list of all areas the business was spending money and began to track the return the business was getting from those expenditures.
Identified critical areas for supportive staff:
The owner was working 60+ hours per week in his business. We needed to hire a Director of Operations who would be responsible for the day-to-day activities of the business.
The solution JR3 Consulting came up with overall had a major impact to the financial health of the business while enhancing the quality of life to the Shareholder. With the money saved from expenditures that were not adding to the bottom line, we were able to allocate some of those funds to hire a new Director. The Director took much of the burden off the owner by streamlining processes within the company that enhances efficiency. Profitability went up and continued to climb.
This Shareholder is now the owner of a strong well-operated business with strong positive cash flow;
The effort vastly improved the company's profitability, created room for a stronger valuation because operationally the business was no longer dependent on the owner, and having a new office director whose strengths were creating systems and processes greatly improved overall company performance.
By the numbers, the effort:
Brought in a valuation of 900K above what originally was calculated.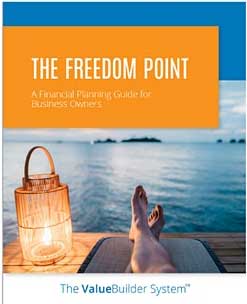 Get this eBook and Other Helpful Resources to Guide You Through Succession Planning.
Our Resources can help you, as a business leader, answer your questions about maximizing your company's value and succession planning. To find the answers you need, tailored to your healthcare business, click on the links below.
Get Your Value Builder Score
Whether you want to sell your business now or decades into the future, getting your Value Builder Score will allow you to:
Diagnose

Diagnose what may be holding you back from creating a company that can fully thrive without you.

Evaluate

See how an acquirer would evaluate your business, enabling you to focus today on what will be important down the road.

Identify

Identify hidden things that may quietly drag down the value of your business so you can eliminate them before they become a problem.

Pinpoint

Pinpoint the part of your business that will have the most value to an acquirer so you can invest more resources in areas likely to be most attractive to an investor or acquirer.